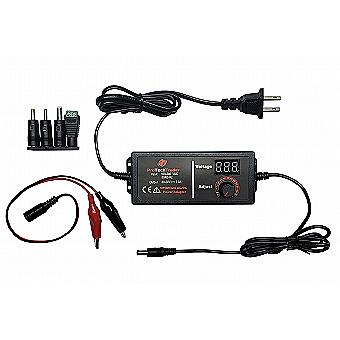 $24.99 $ 18.49
Be the first to leave a product review
Model #:

VPOW324

UPC:

SKU:

MPN
Description
ProTechTrader 3V-24V AC/DC Adjustable Universal Adapter 48 Watts MAX Variable Voltage
Product Description
ProTechTrader's 3V-24V AC/DC 48W MAX Variable Voltage Power Adapter
With 4 extra tips and female alligator test leads, This All-in-One, Universal Power Adapter can save you time and money searching for different voltage AC/DC adapters. The alligator clips and bare wire connection screw terminals connector offer an easily attachable and detachable DIY-friendly connection capabilities for electronics experiments, projects, charging needs, and all other DC power uses. The female screw terminal connector eliminates electrical tape, splicing, and crimping, you'll only need a small screwdriver to secure your wires.
Input: AC 100~240V, 50/60Hz
Output: DC 3~24V (Adjustable)
DC Tips: 3.5x1.35, 4.0x1.7, 5.5x2.5, 2 Pin Screw Terminal
DC Line: 5.5x2.1 to Alligator Clips
Total length: 6ft 5in (3ft input cable & 3ft Output Cable; 5in base)
Commonly used for: Small electronics such as LED strips, under-cabinet light, TV Box, smart speaks, wireless routers, essential oil diffuser humidifier, USB fan, Wifi camera, USB Hub, hard disk box, DC motor, DC pump, digital photo frame, DVR NVR surveillance system, and other household items.
Please Note: You must choose the correct voltage before plugging into your device. The wrong voltage may damage your device. We recommend using less than 80% of the full load. The LCD display will show the output voltage, in case the wrong voltage regulation damages your device.
We always stand behind our products so if there is an issue, please feel free to contact us.
Photos (5)