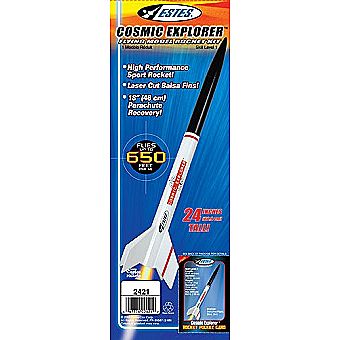 $12.95
Be the first to leave a product review
Model #:

2421

SKU:

Brand:

UPC:

47776024212

SKU:

7338

MPN

2421
Description
002421 - Cosmic Explorer™ Description
Skill Level 1
Search the cosmos with the Estes Cosmic Explorer! This unique sport rocket has styling and power that's BIG on performance. The Cosmic Explorer is an easy to assemble, high tech marvel on the launch pad. Powered with standard Estes engines, this adventurer can easily top the 1,000 foot level, then returns safely on a large 18 inch preassembled parachute.
This easy to build, Skill Level 1 rocket is over 2 feet tall! It features quality body tubes, a super big balsa nose cone, laser cut wood fins and easy to apply waterslide decals. This action-packed rocket is great for beginners who are looking for awesome, high altitude performance in a remarkably streamlined rocket!
Additional Information
Technical Specifications
Skill Level 1

Length: 24 in. (61 cm)
Diameter: 1.33 in. (34 mm)
Estimated Weight: 2.8 oz. (78 g)

Laser cut Wood Fins, Waterslide Decals, Parachute Recovery

Recommended Engines: B4-4 (First Flight), B6-4, C6-5

Projected Max Altitude: 650 ft. (198 m)

Estes model rocketry is recommended for ages 10 and up with adult supervision for those under 12. Unless otherwise specified, all models require assembly. Tools, construction and finishing supplies sold separately. In order to launch, a launch system, model rocket engines, igniters and recovery wadding are required - sold separately-unless otherwise specified.