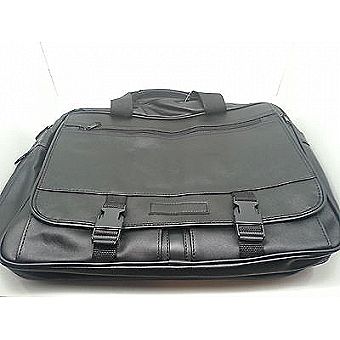 $17.99
Be the first to leave a product review
Model #:

HF-7226

Brand:

UPC:

792363352338

SKU:

7226

MPN

HF-7226
Description
Black Leather Attache Laptop Macbook Briefcase Bag
Brand New With Tags
Are you looking for the perfect bag for your laptop or school books? Do you want something you can sling over your shoulder when you're in a hurry as well go strapless
from time to time
when you're feeling your forearms need a workout?
This is the bag for you!
This bag features
5
different zipper compartments! There's the roomy center compartment that's ideal for your laptop, textbooks, and notebooks. You may even be able to fold a pizza in half and sneak it into a movie theater with this bag. The front flap also has a zipper compartment. I like to keep my phone there for quick access. Easily open the two buckles on the front flap to expose a whole new world of storage and organization! There's a detachable key ring there so you don't have to rummage around for your keys when you need them. There's also two roomy zippered pockets. The left side features a smaller mesh zippered pocket as well what seems like a good place to put spare change or tokens. If that left side isn't already cool enough, there's pencil and pen holders as well! The right side has an open mesh pocket along with another unzippered pocket. Just when you think you can't fit anymore into this bag you can, because there's a zipper that runs along the bottom so it expands!!!! Whaaaaat?!? If this description has already painted an amazing visual, just look at the pictures.